A range of weight benches is available to suit different lifestyle needs and fitness goals. When choosing a weight bench, people may consider factors such as their experience level, comfort, available space, and budget.
This article explores what people should look for in weight benches, several weight benches to consider, alternative strength training equipment, and the associated health benefits and risks.
Types of weight benches
Weight benches come in four main categories:
Flat weight benches: Supports heavy weights and are usually compact. They have no adjustable parts, making maintenance easy. However, they do not allow for changing angles, limiting the exercises a person can perform.
Adjustable weight benches: Adjustable backrests and seats allow people to strengthen their muscles using various angles. However, having several moving parts make them prone to wear and tear.
Olympic weight benches: These benches come with a multi-tiered racking system for a comfortable and safe reracking of barbells. A typical downside is their fixed angles and large size.
Specialist weight benches: These types of equipment aim to target specific muscle groups by allowing precise movements and restricting certain motions. Examples of these include abdominal curl benches and preacher curl benches.
You should consider how you want to use your weight bench when choosing one.
What to look for in a weight bench
There are several factors that people might want to consider before buying a weight bench:
Body type: The bench's frame should match the person's body type to ensure safety and stability.
Price: More sturdy types and those with additional features are generally more expensive.
Set up and storage: People should consider the time and ease of setting up the equipment. Some types come with wheels or are foldable for easy storage.
Comfort: Check for the quality of upholstery and the thickness of the cushion to ensure comfort during training. A person should also ensure that the bench matches their height.
Space: Some weight benches require a lot of space. If a person has limited room to work with, they can opt for a compact or folding bench.
Warranty: People should consider the length and coverage of the equipment's warranty.
Maximum capacity: The weight capacity should cover the user's weight and the maximum load of the weight they plan to use.
Experience level: A beginner may have different training needs and experience than experienced lifters.
Fitness goals: The equipment a person needs depends on their goals and the type of training and exercise they need. An individual should also consider the other equipment they will use with the weight bench.
Upgrades: If a person is looking for long-term use, they may opt for upgradable benches. These types allow people to add accessories, such as preacher pads and leg extension attachments, which help progress training.
You can check specifications and customers' reviews for measurements and recommendations.
Editor's Choice
🏷️ CITYSPORTS Adjustable Weight Bench S1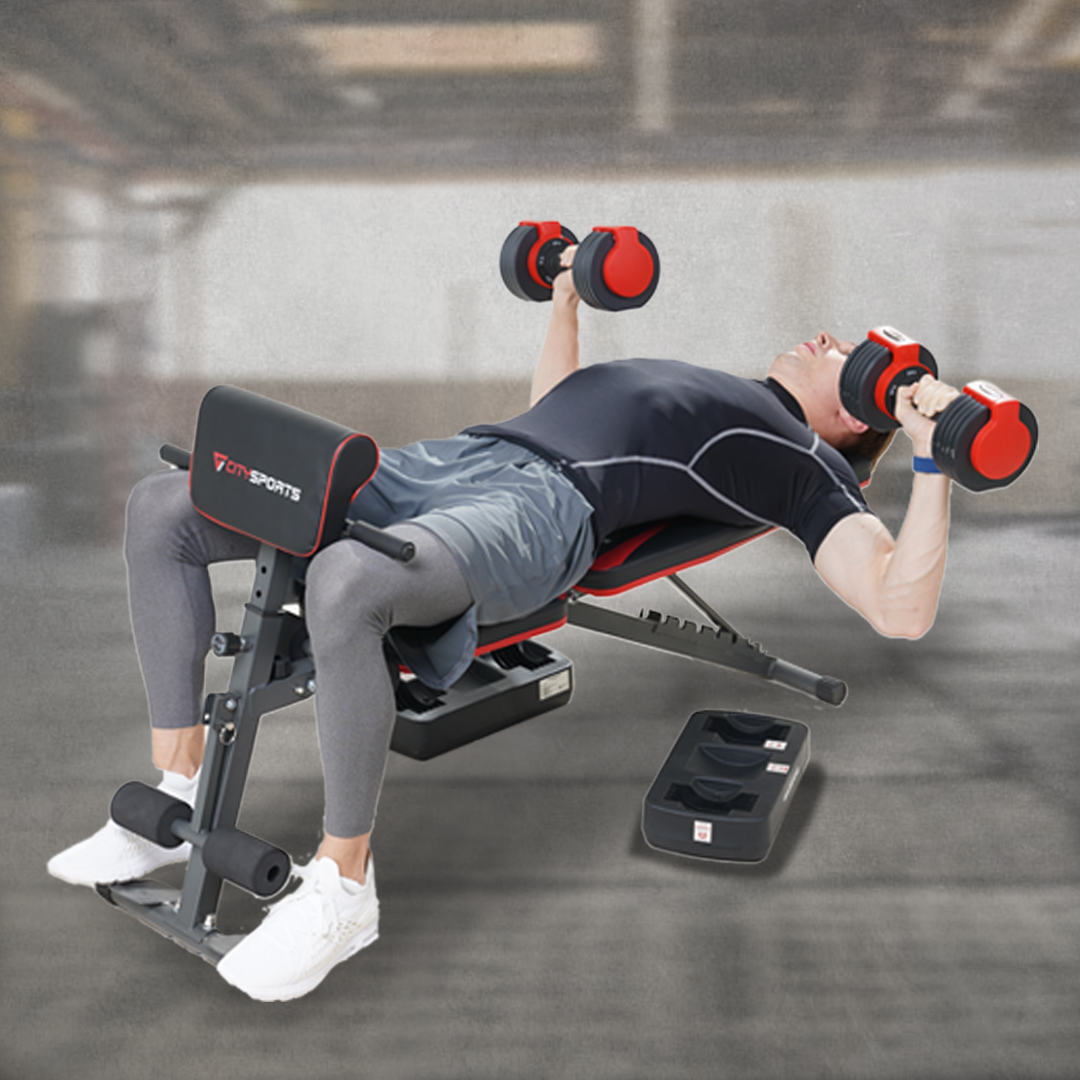 Unique stable triangular structure
7 backrest settings
7 bracket setting
2 foot support positions
330 lbs max. Weight capacity
Folded to save 80% space
comes with2 detachable resistance bands for arm training
Strength training and health
The World Health Organization (WHO) recommends adults aged 18–64 years perform 75–150 minutes of vigorous-intensity aerobic physical activity or an equivalent combination of moderate- and vigorous-intensity activity throughout the week. They also advise moderate-to-high muscle-strengthening activities on major muscle groups for 2 or more days a week.
According to the National Institutes of Health (NIH), strength training offers numerous health benefits:
strengthens muscles
supports bone health
improves food metabolism and reduces the risk of diabetes
lowers the risk for stroke and other chronic diseases
improves self-esteem
A recent 2019 study found that as little as an hour a week of resistance exercise may reduce the risk of all-cause death and cardiovascular disease.
One 2014 study found that muscle strengthening and conditioning exercise may lower the risk for type 2 diabetes.
Research in 2016 also found that people with high muscle mass and low-fat mass had a lower mortality risk than other body composition types.
Summary
Weight benches are versatile pieces of workout equipment that can support a wide array of workouts. Adaptable and adjustable benches allow people to perform different exercises and work out more muscle groups.
When you're looking into buying a weighted bench must consider your exercise and lifestyle needs, such as available space for the bench, fitness goals, and budget. Comparing online customer reviews can help narrow down the many options.
References:
Muscle-Strengthening and Conditioning Activities and Risk of Type 2 Diabetes: A Prospective Study in Two Cohorts of US Women [January 14, 2014]
WHO Physical activity [26 November 2020]