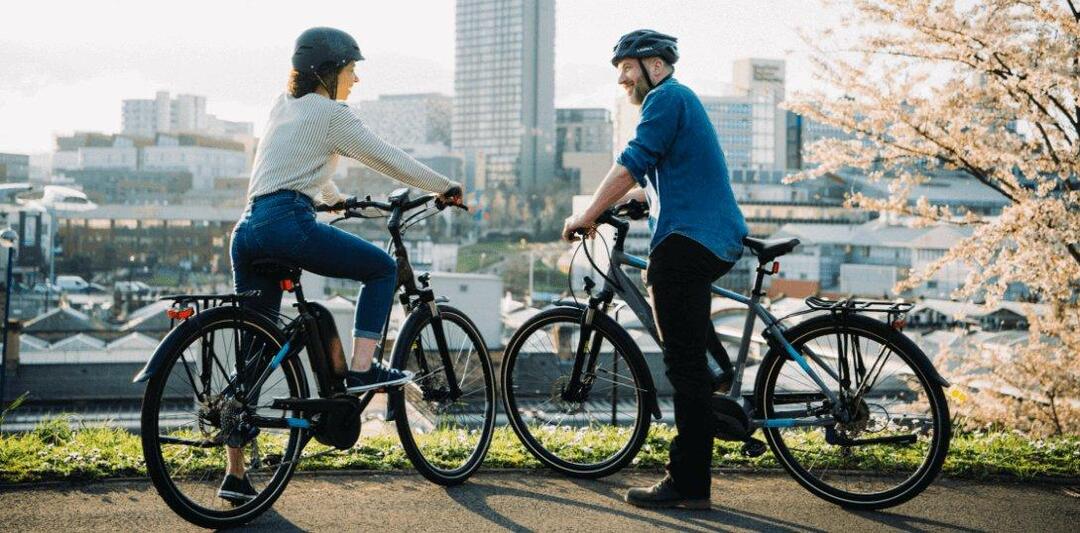 Adding more oomph to your ride a battery-powered motor can open up the world of cycling like never before, helping to take the strain out of riding, the best electric bike can bring joy to a huge number of cyclists.
As one of the fastest-growing bike categories, it can be tricky to work out what the best electric bike is, so we've included lots of helpful hints and tips on what to look for when making your choice.
What is an ELECTRIC BIKE?
Electric bikes - often known as e-bikes - are conventional bicycles, with a rechargeable battery and a motor to help move you along, taking some of the efforts out of pedaling.
E-bikes are futuristic battery-powered bikes that are certainly turning heads in the cycling world. The biggest mistake that people make when looking at e-bikes is expecting them to propel you along a bit like a powered bike or motorbike. In reality, the battery and motor system simply assists pedaling, so when you cycle up a steep hill, you'll need to put in less effort to maintain speed.
E-bikes come in a variety of shapes and sizes, and you'll be able to find electric road bikes, electric mountain bikes and even folding bikes with small batteries and motors.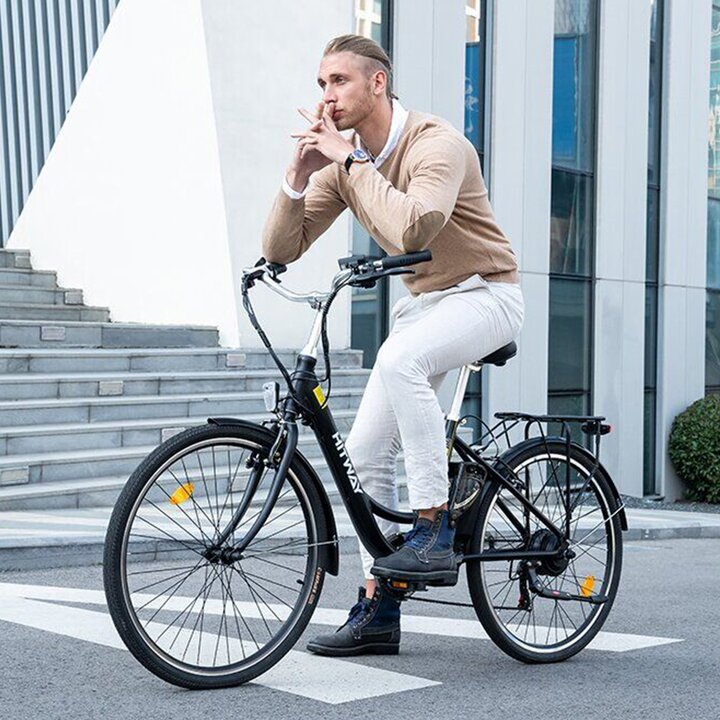 Choosing the right e-bike
There are several different types of e-bike on the market, including electric road bikes, hybrid bikes, folding bikes, and mountain bikes.
We delve into the details below to help you understand the differences between electric bike models.
Folding e-bikes
Electric folding bikes can be folded and unfolded in seconds, making them easy to stash away in train compartments, next to tables and even under your desk at work.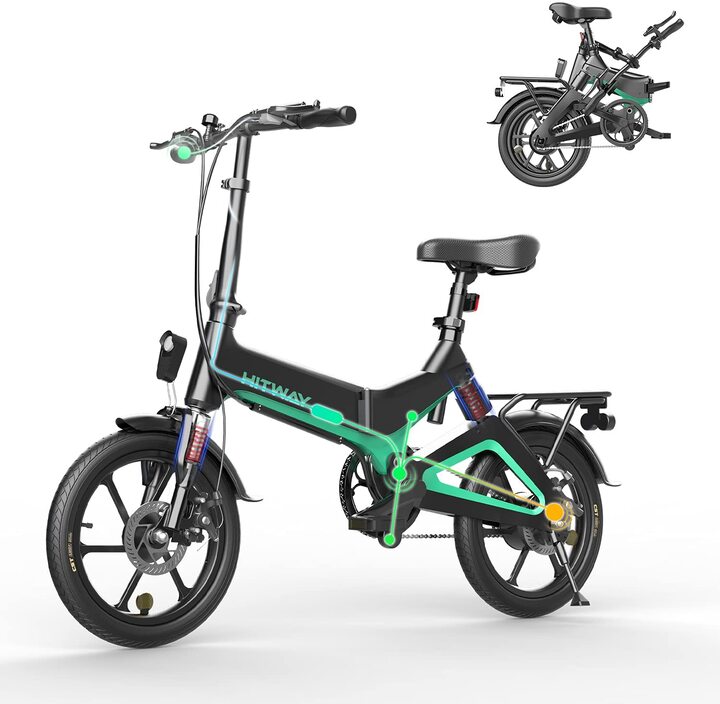 Like all folding bikes, folding e-bikes have small wheels, which makes them speedy and maneuverable – so perfect for city streets and quick commutes.

Hybrid e-bikes
Hybrid bikes combine the best bits of a road bike and a mountain bike, which makes them ideal for rugged rides, challenging commutes, and light touring. Expect flat handlebars, knobbly tires, mudguards, and racks.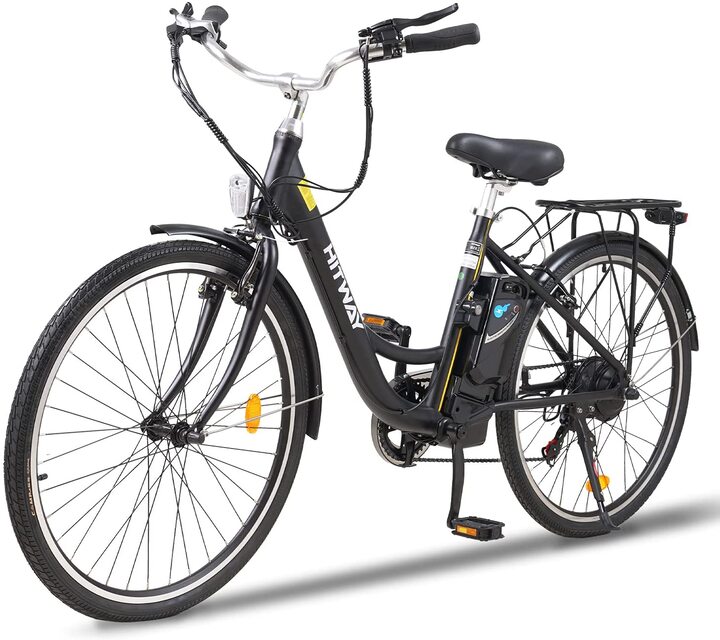 Electric hybrid bikes are the same, except of course there's a battery and motor that kick in when you've had enough of pedaling!

Electric MTB
Electric MTBs are revolutionizing what's possible in off-road adventuring. Fitted with a rechargeable battery and a powerful motor, electric mountain bikes are enabling riders to tackle higher climbs and more challenging obstacles than ever before.
Things You Have to Consider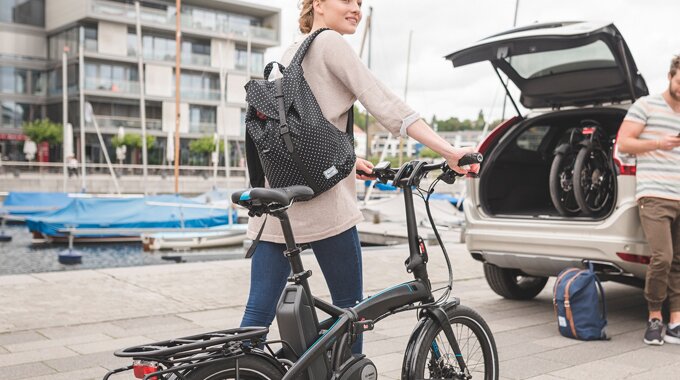 E-bike Legality
Electric bikes are legally referred to as "electrically assisted pedal cycles" or "EAPCs" under EU law EN15194, which the UK takes e-bike legislation.
Your e-bike only falls in this category if:
If your e-bike meets these requirements, then you can legally ride it on the roads. All e-bikes we sell at Likesporting.com are legally safe to ride on the roads.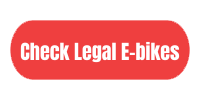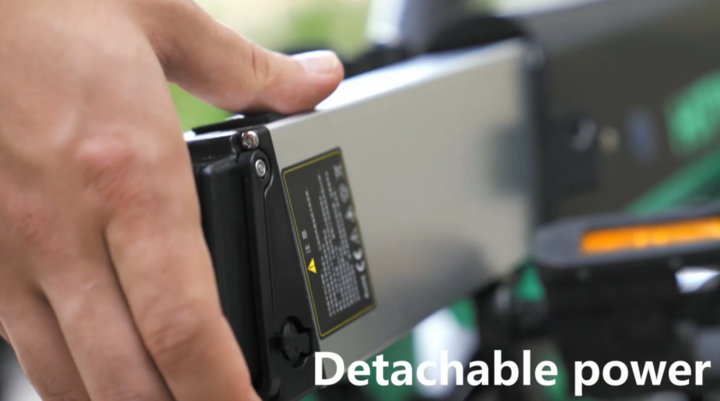 E-bike Batteries
The two key things to look out for with e-bike batteries are the range. E-bike batteries are measured using watt-hours, which can get complicated when you have to start doing maths to figure out how long you can go from one charge. A quick and simple way to get around this is to consider how far you'll be traveling and buy a battery that is capable of handling that distance (remember you'll need to factor in the way back too!).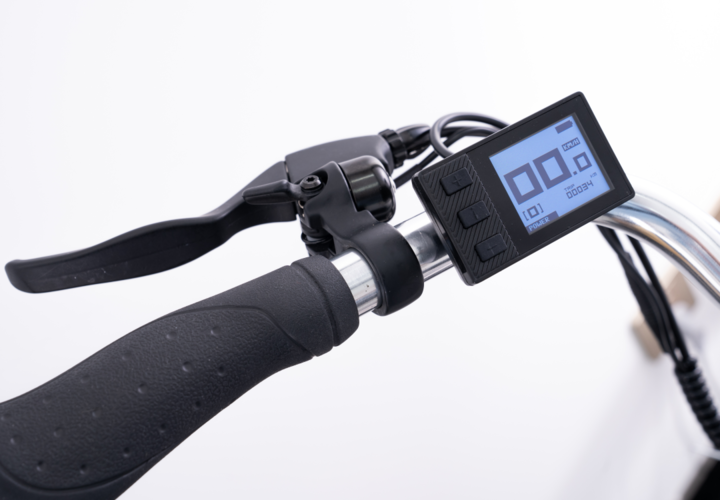 If the e-bike you're looking at exceeds these regulations – for example, it has a motor over 250 watts or provides assistance above 15.5mph - then you'll need to register it as a motor vehicle, tax it and insure it. You'll also need a driving license to ride it, and you'll need to wear a motorcycle helmet!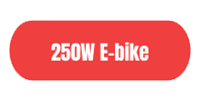 The Control Unit
This is the panel or screen where you can configure how much assistance you want from the battery and motor. If you're feeling fresh and want to conserve battery power, then you can turn off assisted cycling convert your e-bike into a normal bike at the touch of a button, or if you're flagging or approaching a big incline then you can ask for full assistance and pedal lightly while the motor does all the work!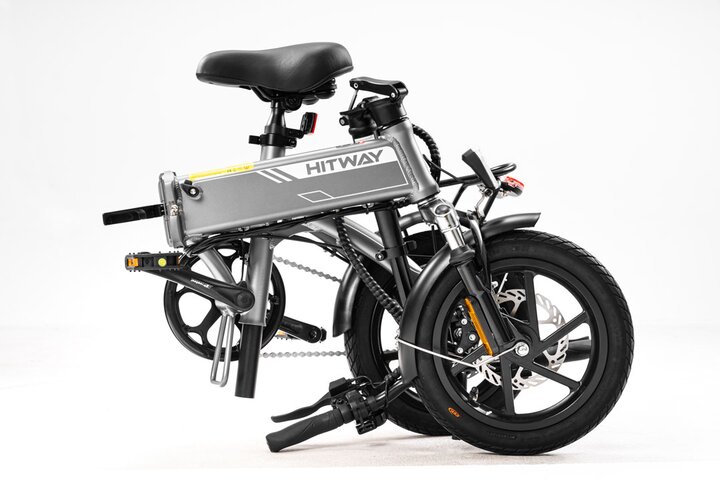 HITWAY BK3 folding e-bike works on 6 riding modes for different jobs.
🔺 Normal Mode: no electric assistance
🔺 Gear 1 - Gear 5: 5km/h - 25km/h
E-Bike Wheel Size
Models with smaller wheels will be lighter and more compact when folded, but won't gather as much momentum on the road. A folding bike with larger wheels will be much faster rolling once the wheels are up to speed - but will likely weigh more and will be little more cumbersome to load onto public transport or haul up a few flights of stairs.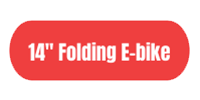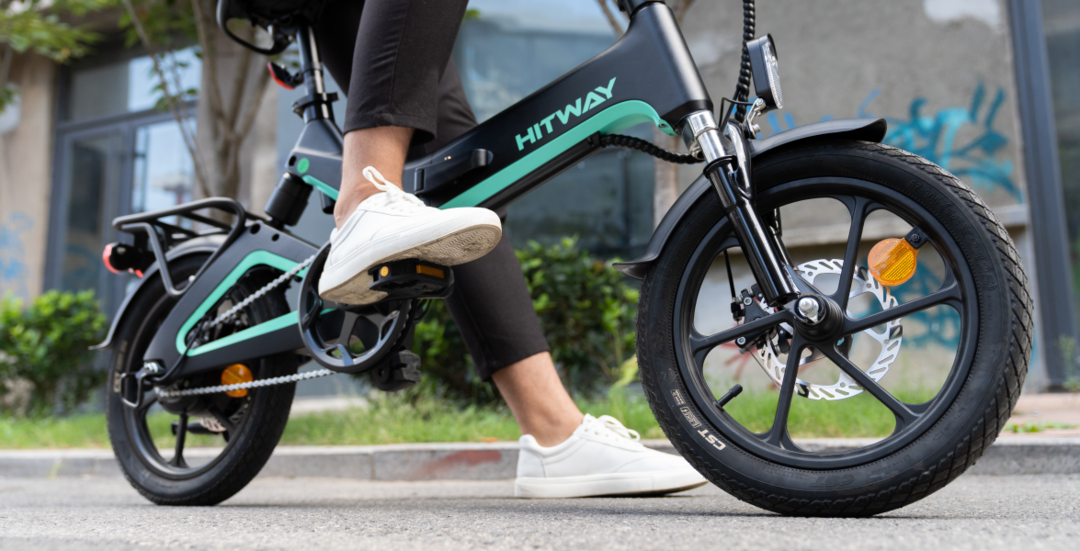 Motor
You can have the best e-bike battery in the world, but without an efficient motor, all that extra energy counts for nothing. There are three types of motor.
Front hub motors
Front hub motors fit onto the front wheel. A front-hub motor will efficiently pull you along, but it can feel a little like a front-wheel-drive car.
Front hub motors are often fitted to entry-level e-bikes.
Rear hub motors
Rear hub motors are fitted to the rear wheel. They provide more traction than front hub motors and can feel more stable on the road. Rear hub motors are more technologically advanced as they need to interact with the gears and chain.
Rear hub motors can be found on mid-range and high-end e-bikes.
Central Drive Motors
Central drive motors sit right on the bottom bracket, where the pedals attach to the frame. All power is directed through the entire chainset, so powered cycling feels more natural. Plus, the motor's weight is in line with the rider's center of gravity which can make the power-delivery feel more natural.
Central drive motors are fitted to mid-range and high-end bikes, including some electric mountain bikes.